Working out from home is incredible.  Why waste time going to the gym, having to work out in front of people, trying to find a workout on Pinterest, or following an app which tells you to do 10 moves for 30 seconds each and repeat.  That's just boring and time-consuming. Often we talk ourselves out of doing something due to self-limiting beliefs and excuses.  Don't let of lack of time, space, knowledge, or equipment stop you from getting started.  These are just excuses that will hold you back and have no merit.  With a few home gym essentials, you can begin working out from home in no time.
This post contains affiliate links. For more information, see my disclosures here.
Workout Program
Having an app that streams your workout videos directly to your phone, computer, tablet or TV is amazing.  This takes the guesswork out of what to do and can be done from literally anywhere (i.e. your garage, living room, hotel room, parents house by the kitchen table, etc.) See my Virtual Fit Club.
Time
An effective workout can be done in as little as 20-30 minutes a day. You can make time for that, I promise! It just needs to be a priority. This may mean no longer hitting snooze in the morning or less Netflix after work.
Space
Space is also a self-limiting belief. I work out in a 6 foot by 3 foot landing in front of my washer and dryer. Sometimes I need to be creative on how I do my moves but I still get it done. I have had effective workouts in front of my bed in my hotel room as well. Move the coffee table out of the way and get it done. You will not regret it.
Equipment- The 3 Essentials
When I started working out from home 4 years ago, I started with the basics aka essentials, and slowly built my home gym to what it is today. Some programs can be done with no equipment at all while others require a wide array of weights, resistance loops, strength slides, etc. The 3 essentials I recommend for building your home gym are yoga mat, resistance loops, and 1 pair of dumbbells.
Yoga mat
This is a must for floor exercises- think pushups, crunches, chest press, etc.  A good mat will provide support under you to protect your body from the floor and the floor from your sweat.  These are the two I have:
Garage gym floor mat- This mat is 8mm thick and lives on the landing in front of my washer/dryer where I most frequently work out.  I chose this mat for a few reasons.  It is 2mm thicker than your traditional yoga mat.  This was key because my workout space is on cement and I needed the extra cushion.  It is also larger than most so I can tuck it partially under the washer/dryer and it is more of a floor cover than a mat that you roll up after each workout.  This mat is made to be rolled and stored so either method will work. 
Easy Portable Yoga Mat- This mat is 6mm thick and is your more traditional yoga mat.  I use this when I work out in my living room.  This yoga mat rolls up nicely for easy storage and is perfect for my workout. 
Resistance loops
Resistance loops are a great way to build strength and add an extra level of challenge while being space efficient.  These are what I have:
Dumbbells
I recommend one pair of dumbbells to start. Strength training can occur by using your own body weight or using the resistance loops mentioned above.  But it is also great to be able to build muscle using weights.  Your current strength and the type of workout you are doing will dictate the appropriate dumbbell weight to start with.  This will range 3 lbs, 5 lbs, or 8 lb dumbbells.  I started with a pair of 5 lb dumbbells and have found that this is often the best starting point for most.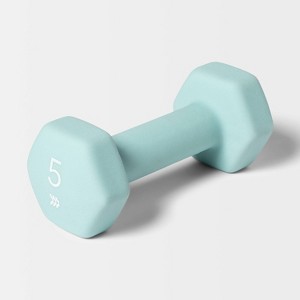 Clothing- The 2 Essentials
Shoes
A good pair of shoes is vital in protecting your joints from the additional strain you will put on them while working out.   That is unless you are doing a barre or yoga program which requires no shoes at all!  A good rule of thumb when picking 1 pair of shoes to accommodate the various workout styles you may be doing is to purchase training shoes.  This means that they can endure the high-intensity jumping but also work well for weight lifting. 
If you ever experience any foot, ankle or joint pain this may be due to improperly fitted shoes. To ensure that you are protecting your body, I recommend finding a local specialty running shoe store. They will analyze your foot, watch you run, and find the best shoe for you to make sure you have the right support and your arch is protected properly.
My favorite training shoes are:
Workout Bra
Cute strappy fun workout bras look amazing and are great for athleisure but I do not recommend them for daily workouts that involve any amount of impact.  I have found that to keep the girls in place during cardio, a bra designed for high impact is best.  I have had luck with Victoria's Secret workout bras. If you wear their traditional bras, the sizing of the workout bra's is consistent.  If you are in-between bra sizes, I recommend sizing down.  Being on the tighter side of things is better than too loose.  
Consult your physician and follow all safety instructions before beginning any exercise program and nutrition plan.
These items are the basic essentials to get your home gym started.  If you have any questions or issues finding certain items, please let me know.  I love researching these things and may be able to find what you are looking for.