There are so many baby products and differing opinions on what is necessary and what is useless for a newborn baby. Starting a baby registry when the baby hasn't even arrived can be confusing. I have compiled my list of baby sleep must-haves to save you the frustration.
---
I will be discussing the following baby sleep must-haves in this post:
If you prefer a simple list instead go directly to:
---
While I was pregnant, I began to research all the various "baby must-haves" to figure out what we "needed" for our little peanut. I found myself quickly overwhelmed. There were so many choices and conflicting opinions. I spent hours researching, talking to other new mamas, and discussing products with baby gear specialists in various stores. I compiled my registry with the best products that I thought would be right for us.
Now that Caleb is 8 months old and we have used the products, I feel that I have narrowed down a list of baby must-haves by category. It is my goal to release multiple posts of "Baby Must-Haves" broken down by topic.
To start, let's tackle everyone's favorite topic: Sleep!
What products do you need and what knowledge do you need to be armed with in order to maximize sleep for not only your baby but mama and dada as well? The following are my recommendations for baby sleep must-haves based on my own experience. Read my Disclaimer Policy. For the safety of your baby, please do your own research and follow the American Academy of Pediatrics guidelines.
This post contains affiliate links. For more information, see my disclosures here.
Baby Sleep Course
Knowledge is power (cliche but true). I recommend taking a course on baby sleep before your baby arrives.
During the third trimester, the fear of the unknown started to set in. What do I do when he gets here? What will the day look like? I need some sort of framework and direction in order to feel that I am working towards something instead of aimlessly wandering through sleepless days and nights.
In my research, I stumbled upon a course by Taking Cara Babies. The description was about how to set a flexible schedule, understand wake windows, naps, and feeding time frames. My husband and I decided to invest in the Newborns (0-12 weeks) & 3-4 Months bundle package.
At 3 weeks until our due date, we watched the videos that accompanied the Newborn's guide. The videos were PERFECT! They walk you through all the questions you may have around naps and night sleep. There are tips and tricks to help your baby go to sleep on their own and stay asleep. The course explains how to recognize hunger cues versus sleep cues. It is a road map! She gives you schedules to follow as a guideline and they change as the baby develops.
When Caleb arrived, we implemented the practices we had learned and they worked!! My husband and I kept referring back to the quick reference guides any time we felt like we needed the extra guidance. It helped us work as a team to help Caleb through the newborn months. We both had the same set of guidelines and instead of fighting with each other about what to do to help him, we both committed together to execute the plan that Taking Cara Babies taught.
I now recommend these courses to all expecting parents as a baby sleep must-have. This was the perfect tool to give me the wisdom I needed to feel like I had a tiny amount of control in the chaos that can be motherhood. We would have been a wreck without them!
It is important to note that Caleb was not a super baby that stuck to our schedule but the framework gave us confidence and drastically reduced worry. There are also guides available for more traditional sleep training starting at about 5-6 months. We would have purchased them, however, we did not have a need because Caleb's sleep habits were already so solid.
Best Baby Pajamas
The best pajamas are those with zippers that can unzip from the bottom. Key for those late-night diaper changes. I would not recommend pajamas with snaps (trust me snaps at 3 am are AWFUL!) Nightgowns also work well.
The Splurge but worth it: Little Sleepies- Zippies PJs These are our favorite pajamas. They are soft and the designs are adorable. They also have both optional hand mittens and footies.
The Value PJs: Cloud Island pajamas. I love these because they are adorable, affordable, and come in a 3 pack (it is nice to have a few PJs on hand for those inevitable blowouts).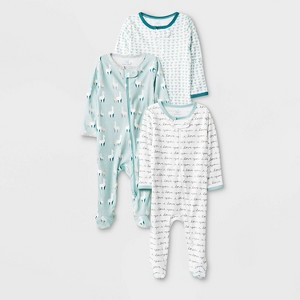 Gowns are another great alternative for sleep. I did use gowns for the newborn stage; however, they were hand-me-downs that are no longer available. Similar item HERE.
Baby Swaddles and Alternative Wear
I read extensively about not using blankets for sleep because it can cause your little one to suffocate. That alone was enough to scare me from ever trying them so I opted for recommended wearable blankets. More details available here.
Swaddles
Swaddles are baby sleep must-haves for infants otherwise they startle themselves awake with their hands. (This is called the Moro reflex if you are interested in learning more about this.)
My Favorite: The Ollie– it is pricy but I used it literally every day. Caleb used this for nighttime sleep and naps from when he was born until he could roll over on his own. It helped him sleep longer and he could not escape with his little hands.
Love to Dream Swaddle– we used this swaddle for day time naps from 0-3 months because it is quick and easy with the zipper but I found the Ollie worked better at night when you want long stretches of sleep.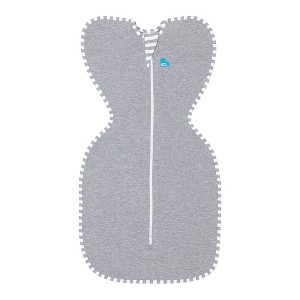 Alternative Wear

Swaddle Transitioners: You can use the Ollie (mentioned above) as a swaddle transitioner (more info here). We tried this method for Caleb and it did not work well for us as a transitioner. He did not know what to do with his hands once they were free and they became something that kept him awake. Each baby is different so the Ollie may be all your baby needs.
Merlin's Magic Sleep Suit– After the Ollie "one arm out" method failure we decided to give the Merlin a try. It worked! Caleb was able to move his hands but the suit kept him still feeling a bit swaddled. He wore the Merlin up until he could roll over in it. Then we were on to our next and final transition.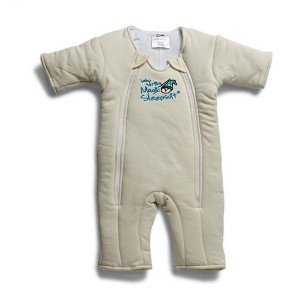 Wearable Blanket aka Sleep Sack: We transitioned to wearable blankets after the swaddle and the Merlin. At this point, his sleep habits were so well developed that the transition to the sleep sack was seamless. This was our experience; however, I know some babies have success with the sleep sack from Day 1.
Halo SleepSack– the most affordable. This is what we are currently using and it has been great.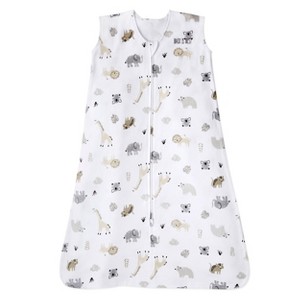 Woolino Sleeping Bag– Pricey but the quality is top-notch. It is also great because lots of sleep sacks require you to choose based on the TOG rating (aka Thermal Overall Grade which measures the insulation of a sleep sack material) for temperature in the house. The wool in this actually regulates the temperature of the baby so it can be used year-round.
Baby Bassinet and Crib
Places to sleep are definitely baby sleep must-haves. The American Academy of Pediatrics (AAP) recommends that parents room-share with their infant for the first 6 months to 1 year (details here). This leads many parents to purchase a bassinet for their room before eventually transitioning the child to a crib in another room. The other benefit to a bassinet is that it is a more enclosed space that mimics a closer confined environment so the baby is more comfortable given that they were just in the womb a short while ago.
Baby Bassinet
The UPPAbaby bassinet that came with our stroller is approved for sleep. We wanted to limit the number of baby items, so why buy another bassinet for the house?
Bassinet stand– The UPPAbaby bassinet stand is an add-on to the stroller which provides a stand for the bassinet and can be later converted into a hamper when the bassinet is no longer needed. We did not get this product because we already had a stand available but I know multiple mothers who did purchase this stand.
Crib
We chose the Babyletto Scoot crib because of its simple design and the fact that it can be converted into a toddler bed in the future.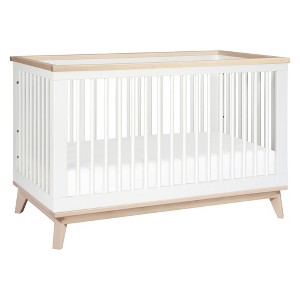 Crib Mattress– we love the Newton Baby crib mattress. It really gave us peace of mind to know that it is breathable.
Crib Sheets– The Burt's Bees Baby® Organic Jersey Fitted Crib Sheets are the sheets we have. I wanted to keep the room fairly neutral and the organic cotton seemed perfect.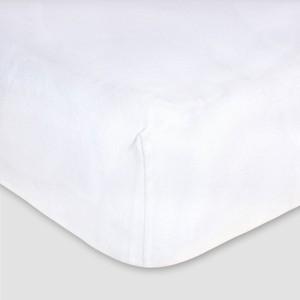 Baby Sleep Accessories
Some people may think that any other accessories are just not necessary. I would have to disagree. White noise machines and monitors are definitely baby sleep must-haves.
White Noise Machine– MUST HAVE! In the womb, the baby hears blood rushing 24/7. The white noise is soothing to them and helps them to sleep.
Portable & Affordable: The Yogasleep Hushh Portable Noise Machine is cheap, rechargeable, and portable. We would bring this with us on walks, road trips, mom's groups, you name it. Any nap that needed to happen outside of the house, the portable white noise machine was with us. IT IS THE BEST!
Splurge: The Hatch Rest+ Baby Sound Machine is the white noise machine we leave in the nursery and use daily. It is great because it is connected to an app. If the baby is fussy you can raise the volume on the white noise remotely. Also, it is a night light that is controlled by the app. You can select the color of the light on your app. For example, I change it to the red light for the middle of the night nursings (a trick from Taking Cara Babies). Once the baby is older you can also program it to change based on different times of the day. I know a lot of parents who have success using this product to keep their toddler in bed until the light shows green (for example) and signifies it is ok to get up.
Baby Monitor – The Nanit Plus. This monitor is connected to an app on the phone. From the app, you can see currently what is going on. The app will alert you (via a push notification) of any movement or sound around the crib. There is 2-way audio so you can talk to your baby via the monitor. It also tracks everything and weekly sends you a report of the night-sleep and naps. Based on your report, it will give you recommendations for things you can do to improve your baby's sleep habits. There are also various upgrades you can purchase like getting the night recording summarized or the breathing tracking swaddle.
---
While there are so many products on the market, I hope this helps you narrow down your choices to truly the baby sleep must-haves. Please share this with other expecting families who you feel could benefit from this. Subscribe to our email list to get informed when I release the next "Baby Must-Haves" article. Also, comment below if you think I missed anything or you have a favorite product I did not include.