There are so many baby products and differing opinions on what is necessary and what is useless for a newborn baby. Starting a baby registry when the baby hasn't even arrived can be confusing. I have compiled my list of breastfeeding baby must-haves to save you the frustration.
Here is the next post of "Baby Must-Haves" broken down by topic.

Now let's tackle breastfeeding!
In honor of this week being breastfeeding awareness week. I thought it would be fitting to share my Baby Must-Haves for Breastfeeding or just feeding little ones (pre-solids).
As a new mom, it is so confusing to know how to breastfeed. You think it will be this normal natural thing that occurs. But I have not found that to be my experience or that of many moms I have spoken with. The more preparation you can do before the baby arrives, the better off you will be.
What products do you need to be armed with in order to successfully complete those frequent feedings! The following are my recommendations for breastfeeding must-haves based on my own experience. For the safety of your baby, please do your own research and follow the American Academy of Pediatrics guidelines.
I am a strong believer that each mother and baby is unique and breastfeeding is best. We have been so fortunate that Caleb latched right away and has remained a strong breastfeeding baby. I know so many moms that have struggled with breastfeeding and are exclusive pumpers, or do a combination of breastmilk and formula, or do formula only. Since you don't know how things will go, its best to be ready for all situations.
This post contains affiliate links. For more information, see my disclosures here.
---
If you prefer a simple list instead go directly to:
---
Resources
Before Baby Arrives: About 1 month before our due date, we took a breastfeeding course at our local hospital. While much of the information we already knew, we did take a few tidbits of advice that we were able to apply once our breastfeeding journey started. I also felt mentally more prepared for the time commitment and frequency that breastfeeding requires. I recommend finding a local class or taking one online if you plan to breastfeed.
Once Baby Arrives: In the hospital, if a lactation consultant is available, ask for a consultation. This is so helpful. They can answer any questions, watch the baby feed, and give you tips and tricks. While in the hospital I saw 2 lactation consultants. Then when home feedings were going pretty well but after a couple of weeks, I decided to schedule another appointment more for peace of mind than anything.
After You are Home: I had so many questions. Like- could I now eat what were no-nos during pregnancy? How long is the milk in the refrigerator stable? Can I bleach my teeth? Etc. I was still the only source of nutrition for my baby and I wanted to ensure that anything that went into my body was ok. I was recommended to look at the website Kelly Mom. It is an amazing resource for all things Breastfeeding and you can most likely find the answer to those "odd" questions you have.
Must-Have Products
For Mom
When you start breastfeeding, your nipples can get sore and tender. They are not used to someone sucking on them 8-20 times a day. There are a few options to help with this. You only need one:
Nipple Cream: This cream helps relieve the tenderness and promote healing. The kind I got is all-natural and eatable so you do not have to wipe it off before you nurse again.
Silver Cups- Looking back I would have just bought these cups and not bought the nipple cream. These work soooo well but they are pricey. I like that I am not rubbing a cream on and he is not eating anything extra. These saved my boobs.
Nursing Pads- Some women have issues with leaking as your breasts start to regulate how much baby needs. I bought these pads and have heard great things but have not had issues leaking so I have not used them.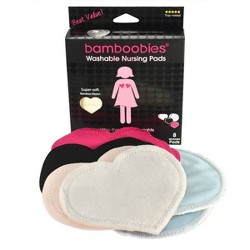 Nursing Bra- My bra size changed so much from pregnancy, postpartum, first 6 weeks, to now 11 months postpartum. These bras have been amazing. Your first 6 weeks postpartum it is not recommended to wear a bra with underwire for fear that you could cause an issue with compressing the milk ducts. These bras provide support, are comfortable for sleep, and are stretchy to have them fit through all of these changes. I don't recommend getting a more traditional underwire, cup style bra until at least after 6 weeks postpartum.
Pumps and Milk Storage
Portable Pump/Let down Catcher– This pump suctions onto the breast that the baby is not nursing on and it catches all the milk that is flowing out (it's called the let down). Normally I can get 0.25-1 oz per feeding. I then put the milk in a bottle in the fridge and continue to collect for the day. I try to store milk in increments of 2-3 oz. For resources on milk storage please look at the Kelly Mom website referenced above.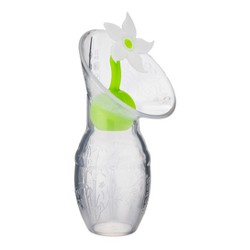 Electric Breast Pump- This is the pump I have. It works great. I like that the battery is chargeable so you do not need to be plugged into a wall in order to utilize the pump. Since I was planning on returning to work, I was not sure where outlets would be to pump at the office. Tip: Check with your insurance because often they cover the cost of a pump.
Pumping Bra- This is the bra I use every time I pump. It allows you to pump hands free.
Milk Storage Bags- I got these bags and like them. I store my milk in the freezer so it is good for up to 6 months.
Formula- I am exclusively breastfeeding but I was not sure if it was going to go well or if I would have to supplement with formula. It is always good to have some formula in the house just in case. I researched what formula is the best for babies. This formula is the kind I have.
Baby Nursing Accessories
Burp Cloths- You can get cute and adorable ones but they are expensive. I found that these cloth diapers work amazingly! I use them every day and they are much cheaper.
Refrigerated Portable Bag for Bottle/Milk Transportation- This bag is what I have.
Bottles
The Best Bottle- Doctor Browns is what every lactation consultant I have spoken with recommends. Please note that every baby is unique and I know some mothers who have said their babies did not take to these bottles.
Other Bottles- Comotomo and nanobebe. We have tried these other bottles and they work but not the favorite.
Nursery Furniture
Glider- I live in this chair. Every feeding, bedtime story, and night time comfort rocking takes place in this chair. It is perfect for those middle-of-the-night nursings.
Side Table/Stool- It is nice to have a stool next to your chair to be able to put things on. You will be surprised by what you want with you when you are nursing. Your phone, bottle of water, and that Haakaa pump I mentioned above. This stool is perfect for all those necessities.
Foot Rest- My glider did not come with a footrest (although I know that some do). I found a cute footrest at Nordstrom Rack but this one looks identical. It is so nice to be able to prop your feet up while nursing. I was surprised to learn in my mommy & me group that many women experience ankle pain from being on the tips of their toes while nursing. This puts you in the perfect position.
Nursing Pillow- I was skeptical to get a nursing pillow because I had heard mixed reviews. Now I can ABSOLUTELY say this nursing pillow is a breastfeeding must-have. It helps prop the baby up in the perfect position to nurse but can also be used when they are older to prop them into a seated position. I still use this pillow for nursing even though by this age most kids outgrow it. My little man still loves this pillow.
While there are so many products on the market, I hope this helps you narrow down your choices to truly the baby must-haves: breastfeeding. Please share this with other expecting families who you feel could benefit from this. Subscribe to our email list to get informed when I release the next "Baby Must-Haves" article. Also, comment below if you think I missed anything or you have a favorite product I did not include.