There are so many baby products and differing opinions on what is necessary and what is useless for a newborn baby. Starting a baby registry when the baby hasn't even arrived can be confusing. I have compiled my list of baby bath must-haves to save you the frustration.
Here is the next post of "Baby Must-Haves" broken down by topic.

Now let's tackle bath time!
What products do you need to be armed with in order to successfully complete bathtime? The following are my recommendations for baby bath must-haves based on my own experience. For the safety of your baby, please do your own research and follow the American Academy of Pediatrics guidelines.
This post contains affiliate links. For more information, see my disclosures here.
---
If you prefer a simple list instead go directly to:
---
Caleb only had one sponge bath at home before we moved him to sink baths (his umbilical cord fell off early). We have a large basin sink and could fit his baby bath easily in the sink. It was not until he could sit up on his own that we moved to bathe him in the bathtub.
Baby Bath Support
What we use: This support works until 6 months of age. A plus is that it is mildew resistant and can be easily hung on a hook for drying and storage. We have loved this but does take up a good amount of room.
Space Saver: I have heard great things about this bath that goes right in the sink and know lots of friends who have it. It easily folders up for after bath storage.
If no bathtub: If you do not have a bathtub at home this bath is a way to create a small tub in your shower.
Convertible Tub: This tub works for newborns through toddlers.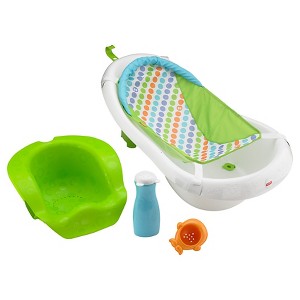 In the Tub
Temperature Reader- This is not required; however, the first bath with Caleb he screamed the whole time. I got this rubber duck floating thermometer and realized the water was way too cold. His second bath, we made sure the water was just right and he was silent the whole time. You don't want to have them freezing or in burning hot water so I find it super helpful and a baby bath must-have.
Soap- I have these 2 baby washes on hand; both are great! Both are hypoallergenic and are for sensitive skin. One is calming lavender and the other is comforting oatmilk and calendula.
Wash Cloths- I use 2 for every bath. One goes on the baby's tummy to keep them warm. The other I use to wash them. These are the ones I have.
Out of the Tub
Towel- you can really use any towel but the baby towels have little hoods on them which is nice because babies loose lots of heat from their heads and are freezing when they come out of the bath. This is the baby bath must-have towel that I have. It is really soft and works well.
Ointment/Lotion: Caleb's skin was super dry and peeling after he was born (very normal)- I had both lotion and ointment at home. I found this ointment to be the most effective and it is for sensitive skin as well. I put this on after every bath and even applied daily on the dry patches. I also use this lotion after every bath on the non-dry areas. Be sure to use my coupon below:
Hair Comb- If your baby has hair, its nice to have a comb. I have this comb.
While there are so many products on the market, I hope this helps you narrow down your choices to truly the baby bath must-haves. Please share this with other expecting families who you feel could benefit from this.
Subscribe to our email list to get informed when I release the next "Baby Must-Haves" article. Also, comment below if you think I missed anything or you have a favorite product I did not include.